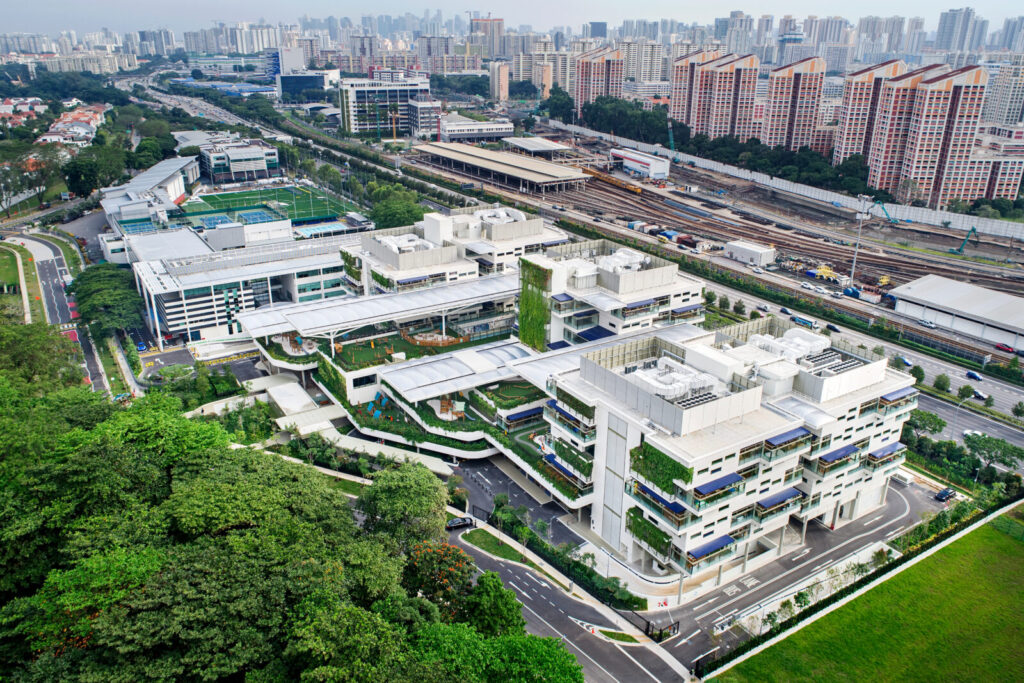 Stamford American Early Learning Village Singapore
Stamford American Early Learning Village Singapore follows a vision to inspire students to create a unique future. The school cultivates a culture of optimism, excellence and empowerment for everyone aged between 18 months and 6 years old, by developing the ideal formative mindset and skills to thrive in today's and more critically for these children, in tomorrow's world.
Stamford American Early Learning Village, Chuan Lane Campus caters to students at the nursery and preschool levels. The campus is commonly known as the Early Learning Village. This campus opened its doors in 2017 and has been designed keeping the requirement of pre adolescent children in mind.
International Nursery & Preschool Campus
The school's guiding principle is the 4-fold values of integrity, courage, ingenuity and compassion. The Early Learning Village is the young learners kindergarten or preschool programme of the Stamford American International School, which has invested in excess of US$300 million on the improvement of their campus, which now features a host of modern technologies and facilities that is now viewed as a benchmark for other international schools to follow.
The curriculum followed is inspired by Reggio Emilia philosophy. The campus has been created to boost sensory learning. The environment nurtures a child, providing purpose built, child scale facilities keeping the child's engagement levels at optimum. The campus contains bright open spaces with plenty of room for playing, dancing, running, and is adorned with natural wood to bring in a feeling of warmth.
The Village has 6 large outdoor play areas with 75% UV cover with generally unrestricted but safe boundaries, that encourages the children to harness their imagination in their play, developing more independent mental confidence and motor skill functions. The carefully developed amenities include the mini library and inquiry resource centre, the air conditioned  wide open childhood arena, under cover swimming pool detailed below, the medical centre, and the parent cafe.
Excellent Young Learners Facilities in Stamford American Early Learning Village
Developed together with the Australian International School, the building is very large, yet child friendly thanks to everything being brought down to child size. There is even a teaching kitchen and science lab with a young child-friendly set up work bench. The classrooms are broken up into little clusters and pods, supplying the kids with different experiential and multi-sensory zones when they move between the 12 different specialist spaces.
In addition to the bright and light, airy classrooms there is a well-equipped 20-metre swimming pool. This covered pool with 2 different depths to teach swimming, can also be custom configured either to shorter horizontal lengths for beginners just learning water confidence, or switched to longer lengths for confident swimmers, (or toddlers can just tread water in one of several in-water resting benches).
There is an air conditioned multi-purpose gymnasium ideal for school-wide celebrations, performances, sports and co-curricular enrichment opportunities like cheer practice and gymnastics. The student community consists of children from a wide range of nationalities, and is accepting of attendees from any country. Singaporean students can use their Child Development Account towards tuition fees.
The Early Learning Village is located at 3 Chuan Lane, less than 10 minutes away from the main Woodleigh campus off Upper Serangoon Road, which houses the Elementary and Secondary schools. Due to the proximity and affiliations of the main school as an Intenrational Baccalaureate (IB) World School and alignment with the American Education Reaches Out (AERO) initiative, the Woodleigh campus is the popular destination for Earning Learning students to further their education.
Address: 3 Chuan Lane, Singapore 554350
 Phone: +65 6602 7247
Website:  https://www.sais.edu.sg/curriculum/early-years-learning.html
Contact Information
Singapore, Central, 178957, Singapore
Contact Listings Owner Form